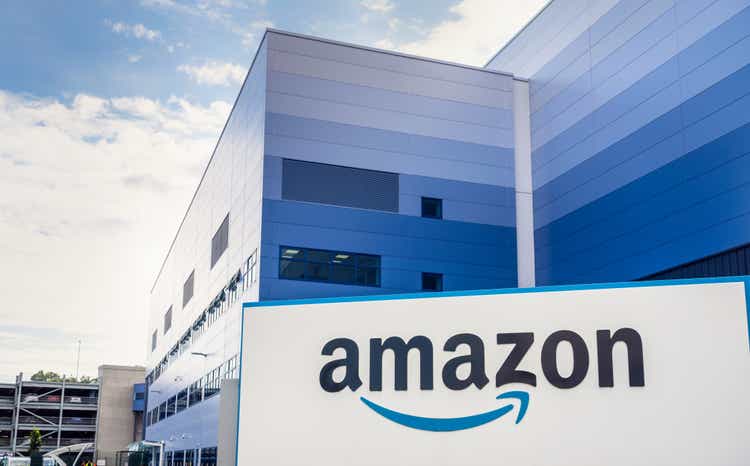 georgeclerk/iStock Unreleased via Getty Images
One of the biggest themes in the market so far this year has been the surge in US interest rates. With the Federal Reserve starting to hike rates and changing to a tightening policy stance, it hasn't been a good time to be long bonds. While I'm not one to focus on the bond market itself often, I'm here today to show the impact on the corporate side. On Monday, internet and retail giant Amazon (NASDAQ:AMZN) launched a large bond deal, one that can be used to look at how this overall situation has changed in the past year.
It was almost two years ago where I covered a tremendous bond deal for Amazon. The company was able to borrow $10 billion at a weighted average coupon rate of less than 1.76%. In May 2021, the company had a slightly higher rate, nearly 1.93%, but this deal was 85% larger. Last year's offering also had a 20-year component to it that pushed up the average cost a bit. However, in the roughly 11 months since, rates have gone a bit higher as the chart below shows, with much of the rise being recently.

US 10 Year Treasury Yield (CNBC.com)
When Amazon launched its bond sale in 2021, the 10-Year US Treasury bond was roughly at a 1.60% annual yield. Today, this key bond goes for about 120 basis points more. While that seems like a sharp jump, and it is to some degree, shorter dated treasuries have seen an even more dramatic rise. Over this same roughly 11 month time period, the US 2-Year annual yield has jumped from 0.15% to over 2.50%.
With rates going up a bit, it was obvious that Amazon wasn't going to get the same rates as they did for last year's offering. This time around, the company didn't take out as much, only $12.75 billion as opposed to last year's $18.50 billion borrowing. However, as the deal comparison table below shows, not only were Amazon's coupon rates higher, but the spread to Treasury also jumped for each of the individual pieces.

Debt Deal Comparison (Company filings)
For this year's offering, Amazon's weighted average coupon rate came in at 3.48%, which is more than 155 basis points higher than last year's deal. Had the company offered a 20-year piece as well, the average would have been even higher. This year's debt deal saw nearly twice as high a rate as the 2020 offering, although the interest expense will be more than double the deal from two years ago since this year's was a little larger. In total, Amazon will be paying about $444 million in annual interest expense on this new slate of borrowings.
Investors are always curious when a company of this size heads to the bond market. At the end of 2021, Amazon's balance sheet showed about $84 billion in cash and marketable securities, against $33 billion in total debt according to the 10-K filing. However, I should also point out that some of Amazon's cash flow data hasn't looked good recently thanks to substantial investments in the business. The graphic below shows key cash flow data, where some of the more important free cash flow metrics have gone negative in the latest quarter.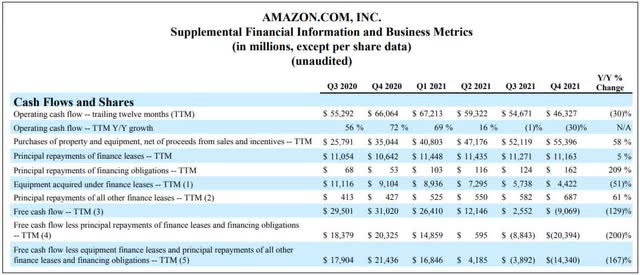 Q4 Cash Flow Data (Amazon Q4 2021 Earnings Report)
This new debt deal can certainly help with continued investments in AWS, logistics, and other growth areas. It also brings in some extra cash in the near term after the MGM purchase closed last month. Investors will also be curious to see if Amazon uses some of these funds for its recently announced buyback program. With Amazon shares well off their highs, management might be interested in some repurchases, although the current small buyback plan won't do much with the name still at a market cap a bit over $1.5 trillion.
In the end, Amazon this week showed us the corporate bond impact of higher interest rates. No matter how strong you think the company is, it was going to pay more given the sharp jump recently in treasury yields. More importantly in my opinion is the spread to Treasuries was also elevated, showing a little more risk here than when the company hit the debt markets last year. I'll be curious to watch how this new capital is spent, whether it goes to more capex to grow the business or is used for things like the buyback and more acquisitions.
This article was written by
Disclosure: I/we have no stock, option or similar derivative position in any of the companies mentioned, and no plans to initiate any such positions within the next 72 hours. I wrote this article myself, and it expresses my own opinions. I am not receiving compensation for it (other than from Seeking Alpha). I have no business relationship with any company whose stock is mentioned in this article.
Additional disclosure: Investors are always reminded that before making any investment, you should do your own proper due diligence on any name directly or indirectly mentioned in this article. Investors should also consider seeking advice from a broker or financial adviser before making any investment decisions. Any material in this article should be considered general information, and not relied on as a formal investment recommendation.