Anker, an Amazon-native electronics brand from China, did over $1 billion in sales on Amazon in 2021. It is the most successful brand built on Amazon, yet the brand has been aggressively diversifying beyond it.
In 2011, then-Google engineer Steven Yang left California to start Anker in Shenzhen. The brand focused on launching batteries, chargers, power banks, cables, and other electronics on Amazon. Since then, the company has expanded into more categories and introduced more brands like Soundcore and Eufy.
Amazon is still more than half of Anker's business, but it is shrinking. In 2021, only 54% of its revenue came from Amazon. Five years before, in 2016, the ratio was 80%. It started selling through its direct-to-consumer websites and launched on other marketplaces. However, the growth of offline channels through retailers like Best Buy, Walmart, and Apple has been the most impactful.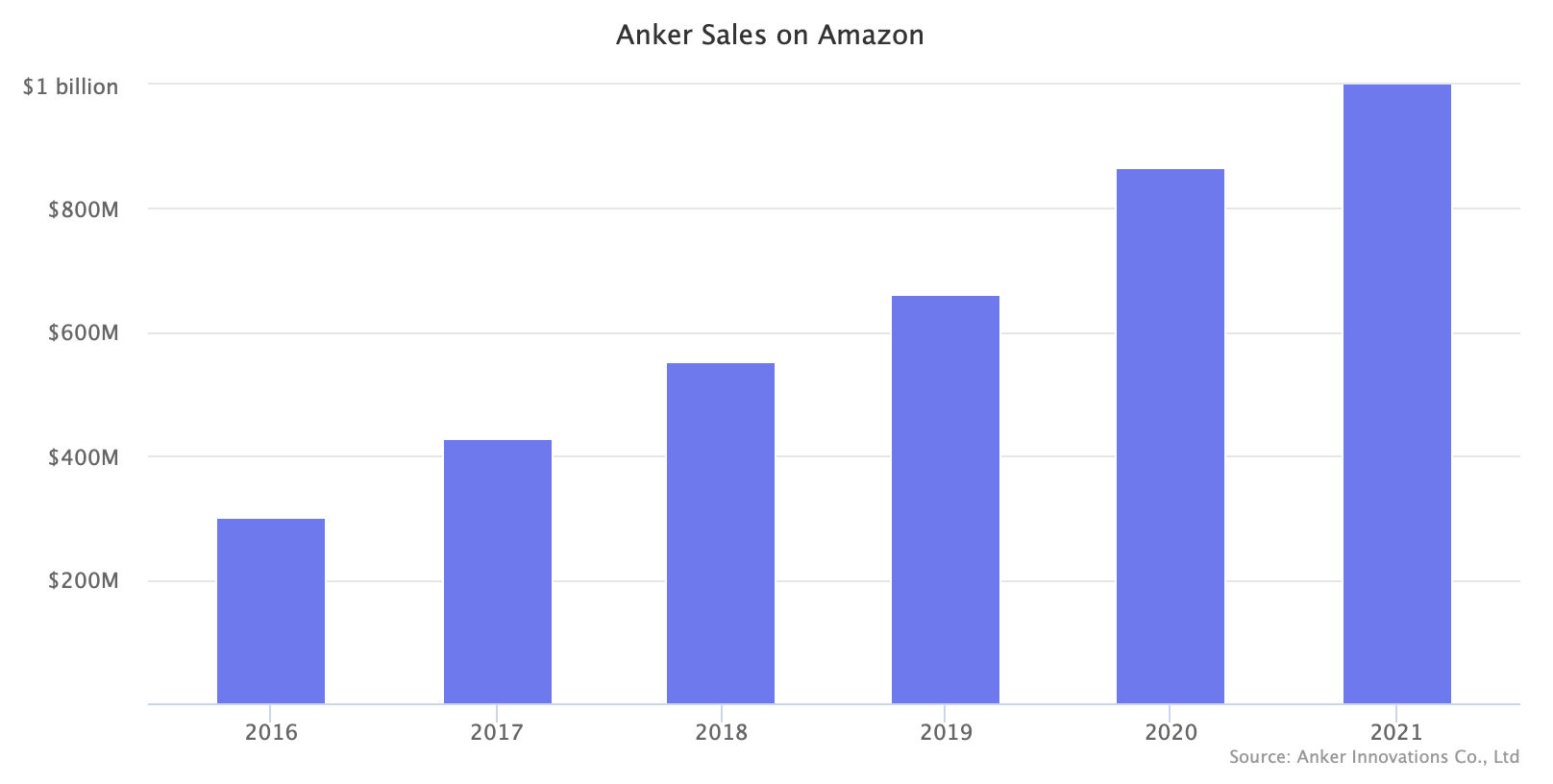 According to Anker's financial statements, its total sales in 2021 reached $1.89 billion. $1.03 billion was sold on Amazon, $685 million in brick-and-mortar stores, and $168 million through other marketplaces and owned websites. The overall business grew 34%, while Amazon-only sales grew 19%, both above the e-commerce average.
Anker has used Amazon to sell directly to consumers in the West (just 3% of its sales are in China). It is the most successful Amazon-native brand and is among the top DTC brands if it could be considered one. Anker spends considerable resources on R&D instead of rebranding private label products – the company reports that 1,605 out of the total 3,532 employees work in R&D. So, while it has plenty of competitors, it has more defensibility than most brands on Amazon.
Like other Amazon-native brands, Anker does Amazon better than the established brands. But it is a notable brand not because of its success on Amazon. It is noteworthy because it is now a household brand recognizable by customers, even on offline shelves. Remarkably few sellers ever achieved $1 billion in sales; none have equity Anker has built.
Juozas "Joe" Kaziukėnas


© Marketplace Pulse 2022